Daryl Snider
singer-songwriter, acoustic guitar, sax, oboe, akogo, restorative community practitioner
Frances Crowhill Miller
violin/fiddle, hang, singer-songwriter, improvisational artist, facilitator, teacher
In 2010 Daryl and Frances began collaborating while in graduate school at the Center for Justice and Peacebuilding (CJP) at Eastern Mennonite University.  Daryl was exploring how to use his music to promote health, growth and new connections.  Frances was working to root her music vocation in peacebuilding.  Both view their music as more than entertainment.  Sopa Sol draws on their experiences in other countries and cultures – including Kenya, Haiti and Brazil – to explore music that is transformative in individual lives, communities and the broader society.
Sopa Sol provides music for various settings and offers special projects to promote healing and community-builiding.
The Wozo project explores – through songs and stories – the dynamics of grief and loss, trauma healing and resilience, restorative justice and the legacy of colonialism.  Learn more

Frances, her husband Tim and son Eli run Fiddle Creek Dairy, making all natural yoghurt.  
Contact Sopa Sol for scheduling and more information.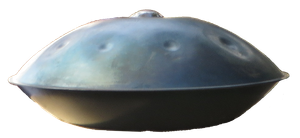 The hang is a recent instrument developed by 2 artists in Switzerland in 2001 after studying instruments around the world.